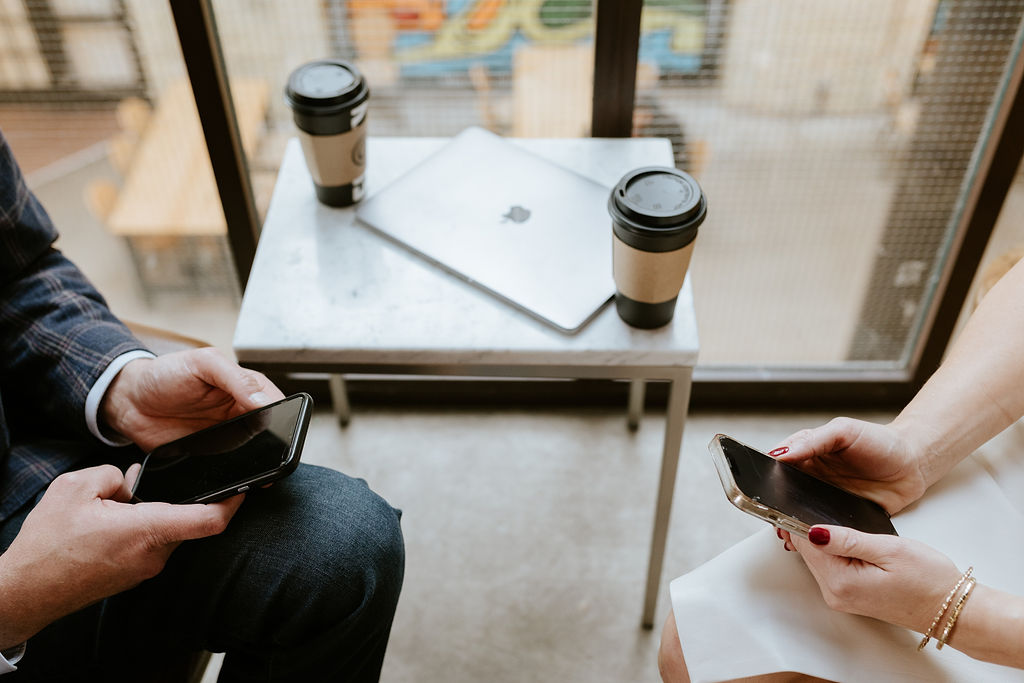 The Margolis Group
My husband and I were lucky and grateful to have Danielle as our real estate agent. From the start, she was able to put us at ease and advise us wisely. In today's market, buying a home is very stressful. Professional, attentive and available, Danielle advised us with honesty and kindness. We also worked with her husband Jon a few times and he was a great help. If you want personalized service that meets your needs, I highly recommend the Margolis team.
The Margolis Group
There was so much we didn't know about buying a house but they guided us and went above and beyond to make us feel comfortable with purchasing our first home. Very quick communication and just a pleasure to work with!
The Margolis Group
The process of selling a house is always stressful even if it was our 4th house that we sold. This time we decided to meet 3 different real estate agents before making our choice.

We fell in love with Danielle and Jon Margolis. When they first came to meet us, they were prepared. Their knowledge of the real estate market exceeded our expectations, their comments on the different rooms of our house and their suggestions on what could be improved were very relevant. They weren't just saying what you wanted to hear, they were stating the facts.

The Margolis group is very well surrounded. Danielle and Jon do business with various professionals (home staging, brochure, photos / video, exterior window cleaning, interior cleaning) to offer us a whole new experience with the sale of a residence. In addition, they have a closed trailer to put the excess material if necessary.

They responded very quickly and were always available when communicating with them whether by text message, email or phone. Thanks to their good advice, our house was sold in one day. Without hesitation my spouse and I recommend the Margolis group for the sale of your property. They are fantastic
The Margolis Group
Danielle, you have been so supportive and we feel that your guidance is of the professional quality we expect of a real estate agent. We highly recommend you to all of our friends and family. Thank you for everything!

-S. Ferguson + G. Ferguson
The Margolis Group
Highly recommend Dani and her team. Very professional and trustworthy group. They go the extra mile to help you out and their knowledge in the industry is top quality.

-C. Arnason
The Margolis Group
Over 9 years ago our family had a great experience purchasing our first home with the help of Danielle and her team. Recently, when it came time to buy our next home there was no question we would use them again. With their guidance, we feel very confident about what to offer and feel that we got our dream home for a great price. When listing our home, they offered valuable advice on changes to make before our home hit the market. They widely advertised it and sold our home for over asking price with 10 offers! We had such a positive experience and cannot say enough good things about this team!

-K + J Lang
The Margolis Group
I have nothing but praise for Jon Margolis and his group during the search for and eventual purchase of my home. I have dealt with Jon since 2013. During these years, Jon was instrumental in helping me sell 2 homes and purchasing 2. Jon has always promptly accommodated me in the many viewings of houses, as well as answering the numerous questions I had through phone calls or texts/ I would highly recommend Jon and his group to anyone selling or purchasing a home.

-T. Neves
The Margolis Group
I used Jon Margolis recently to purchase a house and was very happy with the service he provided.  As a first time home buyer I didn't know what to make of his casual style at first, but he quickly won me over with how much I felt he cared for me as a client.  I'm very picky and we saw/bid on many houses together but I never once got the impression that he was frustrated with me or that he was pushing me to buy just any house.  In fact, even after a year of looking together we would walk around a potential house and HE would be the one to say "nope, this isn't it".  This really made me trust him as it made me feel that he had my best interests at heart, and that he was not just going through the motions of being a realtor.  His goal wasn't just to sell me any house, he had a genuine interest in getting me into a house that was the best fit for me.  One that would work for me not only now but in the future as well.  Texts or calls to him were always returned almost immediately, and in rare instances that we couldn't find a showing time that worked for both of us he had several other realtor friends that could step in to make sure I could see a house even on very short notice.  I know he had many clients on the go but he always made me feel like his only client, and his intense attitude gave me the confidence that he would go to bat for me in any situation.  Since purchasing a house he has checked in on me multiple times, even months later, just to see if everything is still working out, if I've had any problems, or just how life is going in general.  I would recommend Jon to anyone who is looking for an honest realtor who has the client's best interests at heart, and who will always tell it to you straight.

-D. Suderman
The Margolis Group
My husband and I have been searching for the perfect house for almost 2 years. Jon and Danielle were extremely patient with us, taking us to visit several homes over that period, and helping us refine what we wanted and needed in a home. They were always prompt and responsive, spending many of their evenings and weekends with us seeing various options.  On top of that they never once pressured us to offer on anything. They are very knowledgeable about the structural and physical aspects of a house and they always made sure to point out any issues or potential issues that we'd have missed ourselves.

Excellent agents that we recommend to all!

-J. Goszer + S. Goszer
The Margolis Group
Thank you, thank you, thank you!
Words can't express how thrilled Spyro and I are about finally buying our forever home. You made this process fun for us, and we couldn't have done it without you and all your hard work. Jon and Danielle you are a fantastic team and not only exude empathy but gave us confidence that we would be successful at finding the perfect new home. Thank you for your tireless work! Your knowledge of the market, immediate follow up, honesty, feedback, sensitivity and professionalism is top notch. We hope you know how amazing you are. Thank you so much.

-D. Peixoto + S. Lefas
The Margolis Group
We would to sincerely thank you, Jon, for your great services you gave us. We didn't have time to purchaser our home and you simply put enormous effort to help us find what we were looking for in that short period of time. What we especially appreciate from you was how quick you were able to answer our questions. You never tried to push us in a direction we didn't want to go. You did listen very well to our demands and you brought us only to places that was meeting our requirements. We've enjoyed has fast the process went, your energy was phenomenal. Thank you also for providing us with your knowledge, expertise and connections, you guided us extremely well. We basically only have good things to say about you.

We are surely going to recommend you to our friends and we will not hesitate to use your services again in the future.

-Marie-Christine + Bruno
The Margolis Group
Thank you so much for all of your hard work, Danielle. We could not imagine the last couple of months without your guidance and support.

-Matt, Tracy + Merle
The Margolis Group
Danielle's incredible capacity for vision in a space, her meticulous research to find us a good investment and her endless patience in explaining a whole new system to two newbies is truly a gift. We felt respected, listened too and HEARD in what we wanted-and she was happy to help us navigate, even when the list of "musts" shifted. A million thanks you for the best home buying experience we could ever ask for!

-M. Moore & S. Tovar
The Margolis Group
Danielle and Jon were outstanding!  As a first time home buyer, I could not ask for a better real estate agent than Danielle.  Not only is she incredibly knowledgeable, professional and reliable, she listens to what you are looking for and makes the process so easy! Danielle taught me so much and her honesty and availability impressed me to no end. I continue to recommend Danielle as my number one recommendation for a realtor in this city - she is amazing!

-M. Bronson
The Margolis Group
When we decided we wanted to sell our home, a friend highly recommended Jon Margolis as he had helped her buy her home. When we contacted Jon, he was friendly and professional as he walked us through the many complicated steps of buying and selling a house. With our home, he and fantastic team helped us find an appropriate asking price and provided invaluable input on how to best position our home for the sale. We had no idea all the ups and downs of buying and selling, but are so grateful for Jon's patience and support. We truly would have been lost without him.

When we first met Jon, he was just a realtor. We really had no idea what to expect - but within a few weeks, he became more like a friend. By the end of the selling process, we felt like he was a full-fledged member of the family!

-Mike + Lindsay B.
The Margolis Group
A pleasure to work with. Everyone was thoughtful, considerate, patient and very knowledgeable in their field. Our house sold in one week. We wouldn't hesitate to recommend them.

-B + K Brooks
The Margolis Group
Jon represented me for the purchase of my first home in 2007. We looked at many houses before finally settling on the right one, which I still call home today. Throughout the process Jon provided  guidance, patience and diligence and always maintained his good-natured professionalism. He was a pleasure to work with. He talked me through which features of a home were important to me and provided sound advice on the market conditions and bidding process. I am thankful to Jon for all his efforts in helping find the right home for me.

-M. Duffy
The Margolis Group
Jon was incredibly knowledgeable about all things related to the process, as well as condos and homes themselves. His knowledge extends to market valuations, issues within each home/condo that would, or may, require repair (issues which would not be apparent to ordinary individuals, such as ourselves), timing in respect of those repairs, costs of same, the amount of work required for any assortment of renovations we dreamed up and everything else necessary to allow us to make the best possible decision.

-S. Goszer